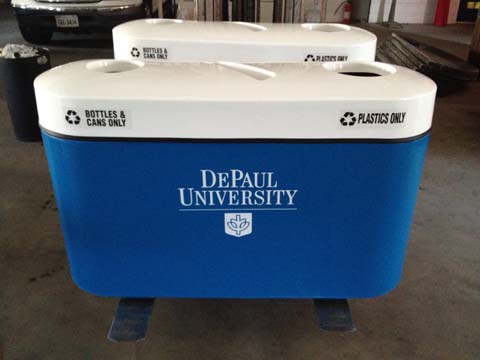 Keep America Beautiful (KAB) and Nestle Waters North America have announced the
third annual Recycle-Bowl competition
, a month-long challenge to see which U.S. school can become the national recycling champion.
Elementary, middle and high schools across the country can register through the official
Recycle-Bowl website
. The program, which first launched in 2011 as a way to
encourage recycling in schools
, will run from Oct. 21 to Nov. 15. Winners from each participating state will be awarded $1,000, with an undisclosed grand prize going to the overall winner.
Recycle-Bowl 2012 was a big year for Kokomo, Indiana's Taylor Primary
. Students recycled 47 pounds of waste, per student, on their way to becoming the national recycling champion. School principal Terry Stokes told Resource Recycling another win is in view: "Being the National Recycling Champions last year was a huge accomplishment for our little students. They enjoyed having our award celebration in a school-wide convocation, especially the part where our high school cheerleaders cheered about recycling while flipping through the air."
If the program's first two years are any indication, competition should increase in 2013.
In the competition's second year, student participation nearly doubled
from 500,000 in 2011 to 900,000 in 2012. KAB's Kelley Dennings is challenging students to keep at it in 2013. "In partnership with Nestle Waters North America, Keep America Beautiful has a goal of reaching 1,750 schools in 2013 and engaging over 1.5 million students," she told Resource Recycling. "This would be a 25 percent increase in the number of registered schools, a goal that we were able to attain in 2012."
Get your school
recycling containers
from Fibrex Group
. Our wide selection of
smart receptacles will enhance your school or university
, as well as collecting recyclables for Recycle-Bowl. Who knows, your school may even win the 2013 championship?! Check us out at
www.fibrexgroup.com
or give us a call at 866-756-4560 to see how we can help you close the loop on your campus.
Original by Bobby Elliott for Resource Recycling