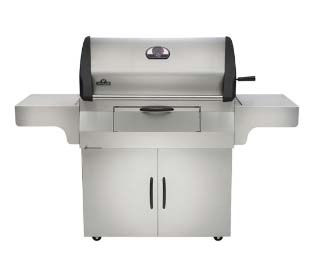 Next week, we will be celebrating the Fourth of July. This is one of the most popular grilling holidays of the year on the Cape. If you are planning a 4th of July event at your home, do you need a
new gas grill
? If so,
consider a gas grill by Napoleon
. Why? Because the grill is the center stage of your outdoor living space.
Napoleon gas grills
are designed and manufactured to create the finest high efficiency grills that you can depend on. Napoleon gas grills offer infrared grilling. Now, Napoleon is one of the largest manufacturer of gas grills, fireplaces and stoves.
Historically, July is the month when people tend to buy new gas grills. Weber and Napoleon are two of the most popular manufactures of gas grills. They both manufacture good quality grills at prices well below a professional grill. But t
he Napoleon gas grill has greater BTU and more room on the grill in terms of square footage as well as a rotisserie with infra-red burner.
All of the
gas grills by Napoleon
, but in particular the mirage collection is an appealing design and reasonable price point that makes this collection of grills a good buy for the money.
In fact, the "BBQ Guys" have positive feedback on these
gas grills
:
Napoleon offers a generous grilling area for the price, and there are a lot of add-on options so you can increase versatility of the grill. If you love the flavor of charcoal, you can put in a charcoal tray and use the burners to light the charcoal, then turn them off. They also have a smoker pipe accessory that you can fill with wood chips and add more layers of flavor to your BBQ.

For more information on gas grills,
contact The Fireplace Showcase
.