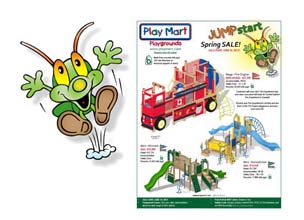 What better way than to get a jump start on Spring than with
Play Mart's outstanding sale prices
on select items!
The Fibrex Group
is proud to be the exclusive manufacturer's rep in the states of Virginia, Maryland, Delaware, District of Columbia and New Jersey.
Play Mart is the leader in
recycled plastic
commercial playground equipment
for schools, parks, day cares, churches, military installations and much more
. We also offer early childhood equipment, site amenities, and fitness equipment. We extrude our structural material - Recycled Structural Plastic (RSP) - using reclaimed #2 HDPE (High Density Polyethylene). In simple terms, we make playground equipment from garbage milk jugs.
Save up to 50% on some items!
NEW Mega™ Fire Engine Playground
Mini™ Hillcrest Playground
Mini™ Stoneybrook Playground
Mini™ Noah's Ark (or Beach Boat) Playground
Play-Fit™ Flagstaff
NEW Kid's 6FT ergo-EcoBench (4FT shown at link)
Nature of Early Play™ ModBox - 24" x 8"
Call 1.800.346.4458 or email us at ruben@fibrexgroup.com so we can help you design the playground of your children's dreams!!
**We only design, sell & install for commercial customers. No residential inquiries please.